Victron Solar Panel 215W-24V Mono 1580x808x35mm series 4a
Victron Mono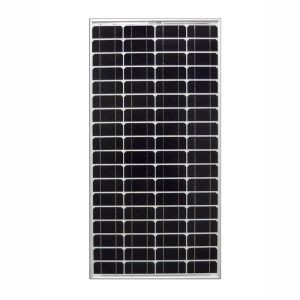 Quantity:

tell me more
Closest in output and dimensions to the VBHN250SJ25 Panasonic HiT modules

We're pleased to stock the Victron range of monocrystalline solar panels, available in a range of power ratings from 20W up to 360W - manufactured to the same excellent quality as all other Victron equipment. These panels are suitable for domestic solar systems, as well as portable vehicle and marine applications.
Features:
Low voltage-temperature coefficient enhances high-temperature operation.
Exceptional low-light performance and high sensitivity to light across the entire solar spectrum.
25-year limited warranty on power output and performance.
5-year limited warranty on materials and workmanship.
Sealed, waterproof, multi-functional junction box gives high level of safety.
High performance bypass diodes minimise the power drop caused by shade.
Advanced EVA (ethylene vinyl acetate) encapsulation system with triple-layer back sheet meets the most stringent safety requirements for high-voltage operation.
A sturdy, anodized aluminum frame allows modules to be easily roof-mounted with a variety of standard mounting systems.
High quality, high-transmission tempered glass provides enhanced stiffness and impact resistance.
Electrical
Peak power
215W
Vmpp
37.4V
Voc
45.82V
Impp
5.75A
Isc
6.3A
System
Weight
15 kg
Dimensions
1580 x 808 x 35mm
Product warranty
5 years
Warranty on output
90% 10 years; 80% 25 years
Comes with 0.9m of solar cable with MC4 connectors.
TRADE: Bulk purchase (10+ quantity) prices available upon request.