15A 12V/24V Dual MPPT Solar Regulator - for charging two batteries
Dual MPPT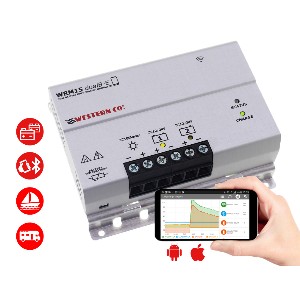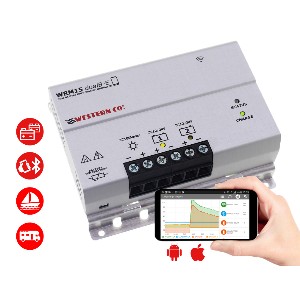 BACK IN STOCK!
A very special MPPT controller - allowing a solar panel (up to 250W) to charge TWO separate batteries/battery banks.
This premium MPPT controller from the Italian manufacturer Western Co. can be used to charge two separate batteries from the same solar panel.
With automatic charge management of two batteries (one primary and one secondary); Bluetooth connection for control with dedicated APP for Android and iOS mobile device; this state-of-the-art controller is the best in the business.
The LCD display shows all relevant information and can work with various types of battery, including sealed, Gel, flooded and Lithium-Ion.
On average you will get around 15-20% more power from your solar panel using this MPPT compared to a conventional regulator. But when it really matters - in dull, overcast conditions, or when your battery is flat - the increase in output can be as much as 30%.
Specifications:
Max Open Circuit Voltage: 100V
Max PV input at 12V: 250W
Max PV input at 24V: 500W
Max Battery Charge Current: 15A
Max terminal size: 10mm
Dimensions: 146 x 120 x 49 mm
Weight: 0.5KG
Warranty: 5 years
Covered by a 5 year manufacturer warranty and suitable with Midsummer 12V solar panels with open circuit up to 100V and max. power up to 250W (12V batteries).