Victron Smart BMS CL 12/100
BMS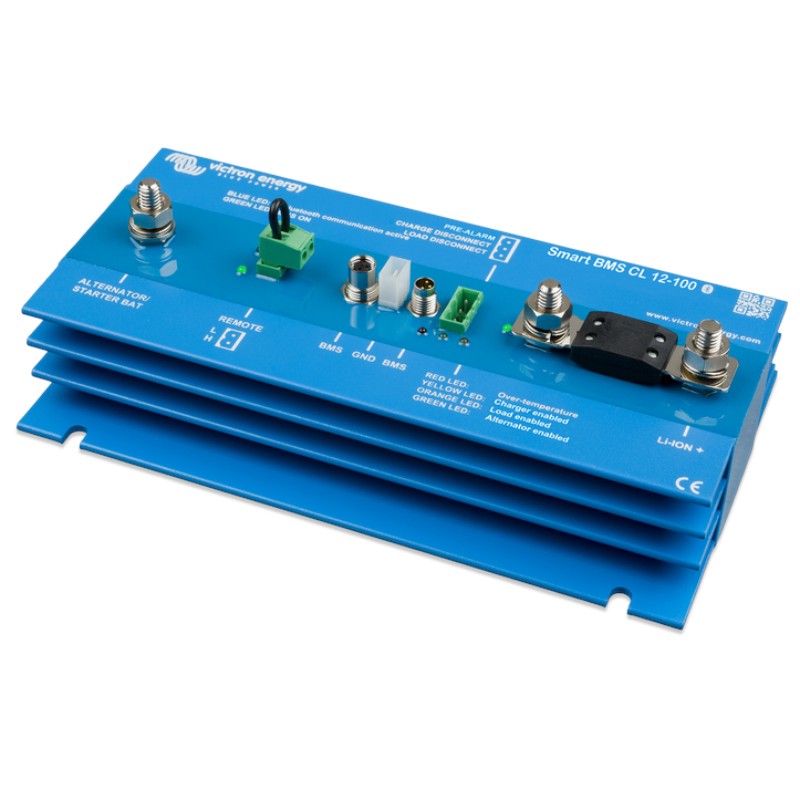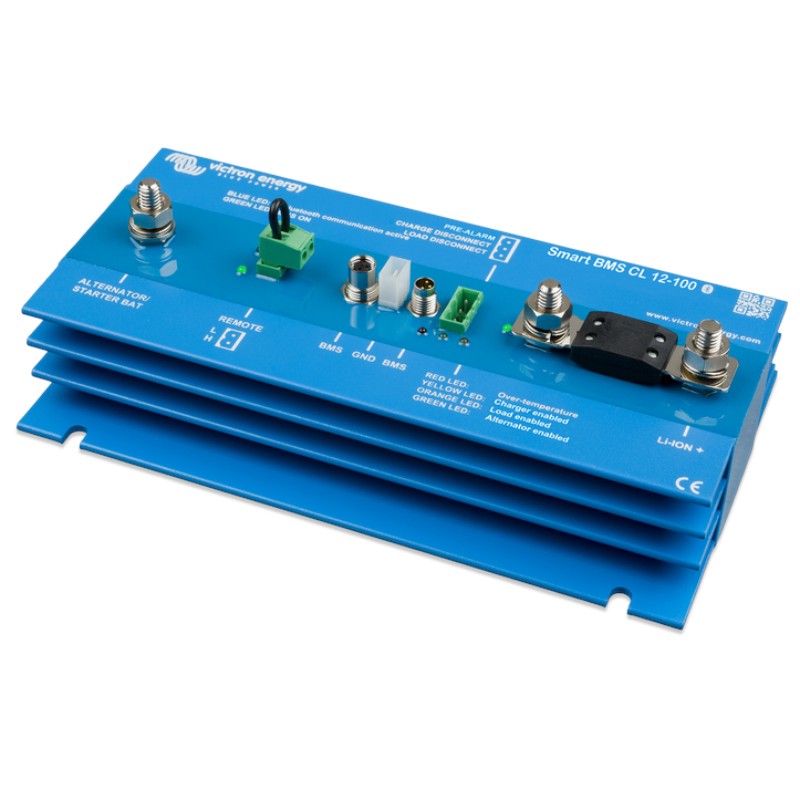 The Smart BMS CL 12/100 is a Battery Management system for Victron lithium-iron-phosphate (LiFePO4) Smart Batteries. It has been specifically designed for 12V systems with a 12V alternator.
The BMS CL 12/100 monitors and protects each individual battery cell within the battery (or battery bank) and will disconnect the alternator, charge sources or DC loads in case of low battery voltage, high battery voltage or over temperature.
The dedicated alternator input provides current limiting and one-way traffic from the alternator into the battery, this so any size alternator (and start battery) can be safely connected to the Smart Lithium battery or batteries.
The BMS is also equipped with a remote on off connector, to turn the BMS (and the system) off via a remote switch, and a pre-alarm contact, to give a warning signal before the BMS will disconnect the batteries from the system.
Features:
Battery Management System - The BMS connects to 12,8V Victron LiFePO4 (LFP) batteries. Up to 5 batteries may be connected in parallel. Can be used as a system on/off switch.
Alternator and Battery Protection - The input current is electronically limited to approximately 90% of the fuse rating. A 100A fuse, for example, will therefore limit the input current to approximately 90A.

Starter Battery Protection and Li-ion Battery Protection - Excessive input voltage and transients are regulated down to a safe level. The Smart BMS CL will stop charging in case of cell over voltage or over temperature. I

Remote on/off Input - The remote on/off input controls the charging via the alternator. When off, charging via the alternator is disabled, while the BMS functionality will remain active allowing any loads and chargers to continue working regardless of the state of the remote input.

Ignition proof - No relays but MOSFET switches, and therefore no sparks.
Specifications:
Max. number of 12.8V batteries: 5 units
Max continuous charge current: 100A (with 125A fuse)
Input voltage to start charging: >13V
No load current when operating: 16mA
Operating Temp. Range: -40 to +60C
Battery Connection: M8
Protection: IP65
Dimensions: 65 x 120 x 224 mm
Weight: 1.6 kg
Suitable for most LiFePO4 batteries, like our Midsummer LiFePO4 12.8V batteries or Victron LiFePO4 12.8V Smart Batteries.