Victron Phoenix Charger 24/25 (2+1) 120-240V
AC / DC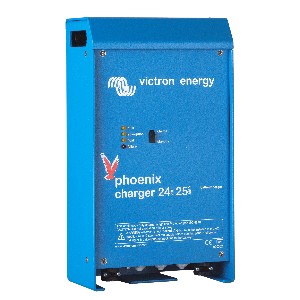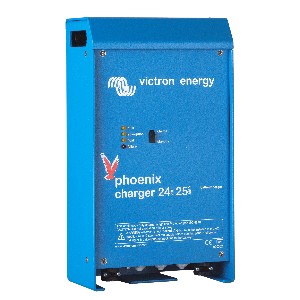 Quantity:

tell me more
This universal AC or DC battery charger is a useful addition to any battery system where AC power is available and batteries need to be kept topped up. (We believe solar is the best charging solution, but understand that mains options are required every now and then).
The Phoenix charger comes ready for 12V or 24V batteries - simply choose from the options before you buy.
Features:
Adaptive 4-stage charge characteristic (bulk - absorption - float - storage)



The right amount of charge: variable absorption time


BatterySafe mode to prevent damage due to excessive gassing

Less maintenance and aging when the battery is not in use: the Storage mode


Temperature compensation to increase battery life

Battery sense voltage to help compensate for voltage loss

90-265V AC input or 90-400V DC supply
Victron use the highest grade of components, robust and precise manufacturing procedures, and rigorous testing to ensure consistent high quality.

Specifications:
Input voltage range: 90-265V (AC); 90-400V (DC)

Frequency: 45-65 Hz

Charge Voltage Absorption: 14.4V (12V); 28.8V (24V)
Charge Voltage Float: 13.8V (12V); 27.6V (24V)
Storage Mode: 13.2V (12V); 26.4V (24V)
Battery Capacity 12V version in Ah: 100-400 (30A); 200-800 (50A)
Battery Capacity 24V version in Ah: 100-200 (16A); 100-400 (25A)
Battery Connection: M6 studs
Protection: IP21
Dimensions: 350 x 200 x 108 mm
Weight: 3.8 kg
Suitable for most batteries, works well with our BMV-700 Victron Battery Monitor.