CTEK D250SE 20A 12V DC-DC MPPT Battery Smart Charger
CTEK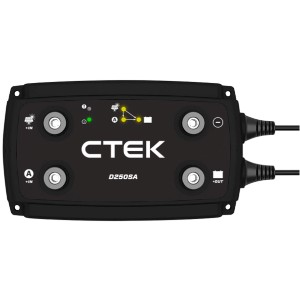 The answer to charging batteries with Smart Alternators in Motorhomes and Caravans!
This Swedish-manufactured 20A 12V MPPT DC-DC Battery Smart Charger has the ability to take up to 300W of solar power, and charge both the main engine battery and leisure battery. It is a fully automatic, 5 step charger that supplies up to 20A of power to charge, condition and maintain any 12V lead acid service battery from 40-300Ah.
5 step charging from smart and conventional alternators and DC sources, such as solar and wind
Automatic battery separator works without the need for diodes or VSR relays
Selectable AGM mode for AGM batteries
Parallel input from both alternator and solar panel
Solar panel regulator with Maximum Power Point Tracking (MPPT)
Starter battery maintenance charging when your service battery is fully charged
Applications include utility vehicles, vans, motorhomes, caravans and boats
Specifications:
Input PV: 11.5-23V

Max Output Voltage 14.4V (14.7V in AGM mode)

Max charging current: 20A
MPPT: Yes
Operating Temperature: -20°C to +50°C

Lead-Acid and Lithium Battery Types
Dimensions Lx192mm Wx110mm Hx65mm

Weight 1 kg

Insulation class IP65 (splash and dust proof)
50-300W (max. solar panel open-circuit voltage 23V DC)

Comes with a 2 year warranty.
There is also an option for a SMARTPASS 120 - a 120A DC-DC power management solution to go in-conjunction with the CTEK DS250SE that boosts the charging amps to 140A and separates critical equipment from non-critical equipment ensuring that all emergency and navigation systems always have power. This fully automatic solution eliminates the requirement for a VSR or diodes and maximises your battery life. It also protects your battery from loads that are attached to it and cuts off at 11.5V.