Victron Orion-Tr Smart 24/12-30A (360W) Isolated DC-DC charger
Orion-Smart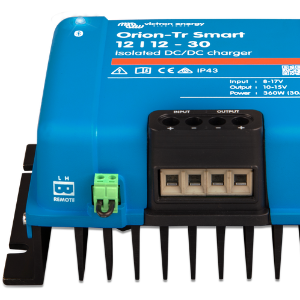 A compact DC to DC voltage converter from leading European designer and manufacturer Victron Energy. This unit will step down a 24v input to a 12v output with a maximum output current of 30A (360W).
Features:
Adaptive 3-stage charger with built-in Bluetooth.
Unlimited units can be connected in parallel to increase output power.
IP43 protection - when installed with the screw terminals oriented downwards.
No special tools needed for installation.
For use in dual battery systems in vehicles or on boats where the (smart) alternator and the start battery are used to charge the service battery. The unit can be monitored and programmed via Bluetooth, and can be remotely controlled via a remote on/off switch. It also has an engine running detection mechanism.
Victron Product Code: ORI1241236120