Lightweight Solar Panels - 75W, 100W, 120W, 500W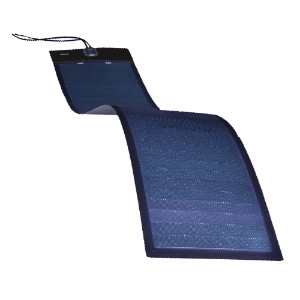 BEST SELLER 2020/21!
125W Miasole Peel-and-Stick Flexible with 5 yr warranty - £285
See More
If space, height and weight are particular issues when choosing a solar panel, then look no further than our flexible panels. With the largest flexible solar panel weighing in at under 3kg, and with wafer-thin backing sheets, flexible panels ensure that you can generate electricity on any roof or surface without you noticing!
Flexible designs of solar panel allow them to curve to the natural shape of any roof. This unique quality allows solar panels to be installed where previously it would not be possible, like boat decks, biminis or curved motorhome roofs. Once installed, special polymers in our CIGS (Copper Indium Gallium Selenide) flexible panels allow them to be walked over in soft-soled shoes.
If you need additional solar cables or more help with your purchase, please contact us.