HZY-EV12-55 - Haze 59Ah Gel 12V Battery
12V Haze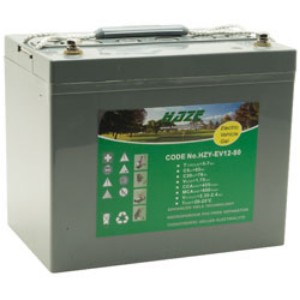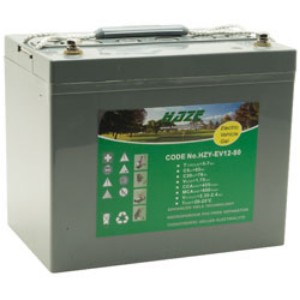 Quantity:

tell me more
Haze gel batteries are totally maintenance-free, can cope with deep discharge without losing capacity, and will tolerate poor charging patterns far better than conventional lead-acid batteries. These HZY-EV batteries are high-resistant GEL batteries for deep-cycle use in the leisure and solar industry.
55Ah batteries are an ideal size for automated equipment systems, outbuildings and smaller boat/vehicle systems. A single battery is suitable for use with solar panels of around 20-60W rating. For 24V systems, pairs of batteries should be linked in series.
Like most gel batteries, they aren't really suitable for engine starting use, or with high powered inverters.
Features:
Longer lifespan, when maintained and charged correctly

Better tolerance to temperature variation

Improved charge acceptance due to lower internal resistance
Dimensions: 229 x 138 x 214 mm. Weight: 17.7 kg. Terminals inset threaded type with M6 stainless bolts and washers supplied.
TRADE: Bulk purchase (10+ quantity) prices available upon request.