Victron EasySolar 12/1600/70-16 230V MPPT 100/50
EasySolar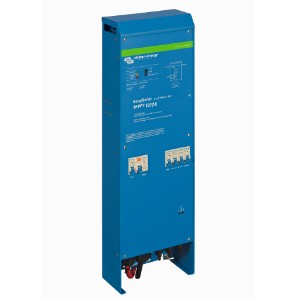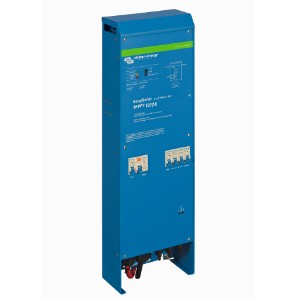 Quantity:

tell me more
All-in-one solar power solution
The EasySolar combines a MPPT solar charge controller, an inverter/charger and AC distribution in one enclosure. The product is easy to install, with a minimum of wiring saving you time and space.
The solar charge controller: Blue Solar MPPT 100/50 Up to three strings of PV panels can be connected with three sets of MC4 PV connectors.
The MPPT charge controller and the MultiPlus Compact inverter/charger share the DC battery cables (included). The batteries can be charged with solar power (BlueSolar MPPT) and/or with AC power (inverter/charger) from the utility grid or a genset.
AC distribution The AC distribution consists of a RCD (30mA/16A) and four AC outputs protected by two 10A and two 16A circuit breakers. One 16A output is controlled by the AC input: it will switch on only when AC is available.
PowerAssist Unique PowerAssist technology protects the utility or generator supply from being overloaded by adding extra inverter power when needed.
Inverter specs:
Input Voltage Range: 9.5-17V (12V)
Continuous Output Power at 25 degrees C: 1600VA/1300W
Peak Power: 3000W
Maximum Efficiency: 93%
Zero-Load Power: 8-10W
Charger specs:
AC Input: 187-265VAC 45-65HZ
Charger Current: 70A (12V)
Solar MPPT Controller
Max PV Open Circuit Voltage: 100V
Max PV Power: 700W (12V)
Max Output Current: 50A
Enclosure
Weight: 15kg
Dimensions (h x w x d): 745 x 214 x 110 mm