Victron MultiPlus-II 48/3000/35-32 230V GX
Multi-II GX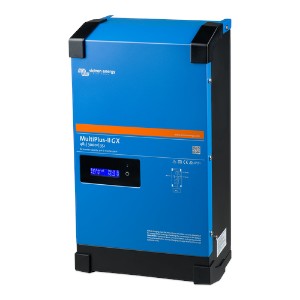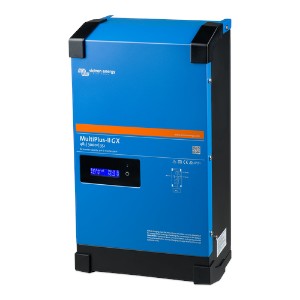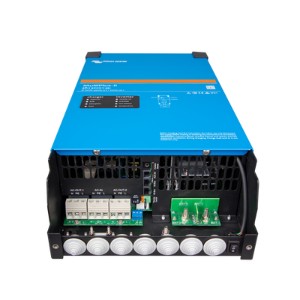 Quantity:

Here comes the newest generation straight from Victron Energy HQ in the Netherlands:- The MultiPlus-II GX
An Inverter/Charger with device networking built-in, the MultiPlus-II GX communicates with a solar charger, batteries, and other devices to control a grid-connected, off-grid, or remote power installation. Capable of parallel operation for increased power output, or battery charge-rates, the MultiPlus-II GX can also be configured for three-phase supply. A host of advanced features - such as uninterrupted power supply, setting load limits, and supplementing limited grid-power availability with battery power - can all be controlled straight from your phone or smart device. Remote monitoring is also possible.
Features:
A Multiplus-II with LCD and GX functionality - all the funcitons of the MultiPlus-II range, with built-in anti-islanding and long list of worldwide country approvals and a 2 x 16 character display

Display and Wi-Fi - reads the battery, inverter and solar charge controller parameters - also accessed via a smartphone or other wi-fi enabled device
Integrated GX device - includes a VE.Can interface, USB port, ethernet port and VE.Direct port.
Applications - on-grid, off-grid energy storage systems and certain mobile applications
Parallel and three phase operation - Only one of these units required for parallel and three phase operations
Victron are a global leader in off-grid and battery storage systems, with over 40 years of expertise in the fields of renewable energy and portable power systems. We have been working with the Dutch company for many years now and have found the quality of their products second to none; the company is also renowned for it's community support and ease of contact. Installation is a simple matter using the detailed instruction manual with fully illustrated colour wiring and mounting diagrams. The true benefit of the Multiplus is the software functionality and advanced protection systems, with regular firmware updates constantly adding new features as and when the community request them.
Specifications:
DC Input: 38-66V (48V)
Continuous Output Power: 3000VA (2400W)
Peak Power: 5500W
Maximum Efficiency: 95%
Zero-Load Power: 2-11W
AC Input: 187-265VAC 45-65HZ
Max Charge Current: 35A (48V)
AC Transfer Relay: 32
Dimensions: 506 x 275 x 147 mm
Weight: 26 kg
Warranty: 5 years
Available in 48V models. Select from drop-down menu above.