Leading Edge LE-450 Horizontal Axis Wind Turbine
Horizontal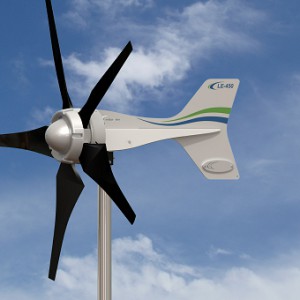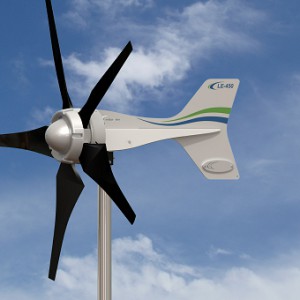 £

959
Options:

Quantity: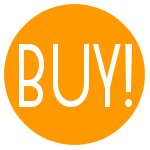 tell me more
From Leading Edge Turbines, the LE-450 is the most powerful small wind turbine with a 1m rotor, able to provide meaningful power levels at everyday wind speeds of 5-8m/s (11-18mph), yet is tough and robust enough to withstand storm force winds.
The LE-450 is a quiet, powerful and lightweight 450W wind turbine for battery charging & grid connected applications. Fully optimised for marine conditions, the LE-450 is ideal for supplementing the power supply on-board a sailboat or yacht and provide energy when solar PV panels are unable to operate effectively – during Winter or overnight.
Manufactured in the UK, the LE-450 wind turbine is extremely easy to integrate with solar panels to create small scale off-grid renewable energy systems for powering security, telecommunications, lighting, signage and telemetry applications.
LE-450 Specification
Rotor Diameter: 1 metre
Rotor Type: 5-Blade upwind
Blade Material: Glass Reinforced, UV resistant Nylon
Rated Output: 105 watts @ 8m/s (17.8mph / 15.5 knots)
Peak Output: 450 watts
Cut-in speed: 3m/s (6.7mph / 6 knots)
Cut out speed: None
Weight: 8Kg
Generator Type: Direct drive, axial flux, 8 pole permanent magnet generator
Design: 3-phase AC with rectification
Output voltage: 12V, 24V, 48V, Grid-tie
Rotational speed: 0-2000 RPM
Swept area: 0.785m²
Typical noise level: 6dB(A) above background
Mounting: 48.3mm or 50mm outer diameter pole
Materials: Aluminium alloy chassis, aerospace grade surface finish, epoxy coated stator coils, sealed for life bearings
Control system: Stall regulation
Brake system: Electromagnetic braking switch
Yaw system: Heavy duty slip ring assembly, 1043mm turning circle
Available in 12V, 24V and 48V for battery charging applications, this wind generator can also be grid connected. If you require a kit, please select this from the drop down product option menu:
Advanced Kit is suitable for operation with other energy sources (i.e. PV):
LE-450 Turbine (choose either 12V / 24V / 48V)
45A Diversion Charge Controller
500W Dump Load
Run / Stop Switch