Shield-TM 12V 110Ah Sealed Leisure Battery
Shield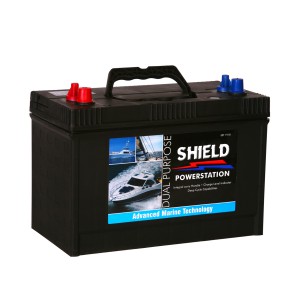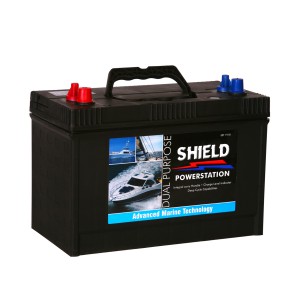 Quantity:

tell me more
The Shield leisure range is designed to supply a much lower current over a longer period of time to enable lighting, water pumps, and even televisions to operate. The battery has the ability to constantly discharge and recharge to a greater degree compared to the starter battery during its normal life. This battery is dual purpose, sealed, maintenance-free and suitable for parallel and series connections.
The 110A battery is a usefully sized unit, sufficient in itself for smaller systems as well as suitable for use in multiples to construct a larger bank.
Our flooded batteries are sent out on a pallet of up to 8 units; if you'd like to order only one or two please give us a call and we can arrange more economical delivery.

Features:
Sealed and completely maintenance-free
Minimal self discharge
Dual terminals
Thick plates for deep discharge applications
Magic eye hydrometer
Envelope separators
Specification:
Nominal Voltage: 12V
Nominal Capacity: 110Ah
Container Features: B1 - Polypropylene
Terminal Type: DT (see datasheet)
Dimensions (L x W x H): 336mm x 173mm x 235mm
Weight: 25 Kg