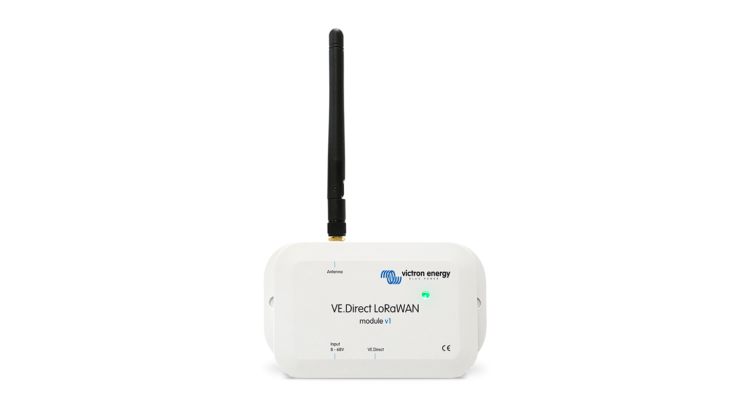 It's a little unfair of me to grab your attention with the 'free internet' connection and the new VE.Direct LoRaWAN module to the VRM, but it's true – no data charge. However as with everything there's always two sides to the coin – benefits to connecting products this way and some limitations. Regardless this new product might just be what you need to connect Victron products to monitor data remotely, such as battery monitors, solar charge controllers and inverters.
Typical examples
Before explaining LoRaWAN (in case you are not aware of it) it makes more sense to give you an idea of how you might connect and use the new Victron Energy module.
Small electric hire boats such as those used on lakes or canals. The idea being that there only needs to be LoRaWAN coverage in the harbour – doing it this way keeps it simple with no data running costs when monitoring that all boats are plugged in and charging correctly overnight.
Forklifts. Utilising the same idea but as it is typically a smaller area then one can monitor the total area of where the forklifts drive.
Robot carts or other autonomous devices that have a battery and move around. For example feeding robots on a farm, pods at an airport, etc.
Mobile road-side information displays around a construction area: just one GSM enabled LoRaWAN router in the area would be enough as all the information displays can send their data out via the one gateway.
Fish farm feeding pens or anything else you can imagine based on the above suggestions.
What is LoRaWAN?
The VE.Direct LoRaWAN (Long Range wide area network) module is essentially a radio transmitter which broadcasts data (in this instance information about the status of your Victron installation) to a nearby Internet of Things (IoT) gateway. The gateway should be within about 2km of your location if you live in a town, but could be as far away as 30km if you live in a rural location. This device uses infrastructure provided by 'The Things Network'. Their network of gateways is constantly expanding and you can check coverage in your area here: https://www.thethingsnetwork.org/map
No gateway in your area?
If there's no coverage in your area it's simple to add a gateway yourself be that to improve the coverage of the Things Network, either for your personal use or to benefit others. You can purchase your own gateway, or start building one yourself. Why not check out the From zero to LoRaWAN in a weekend guide.