Victron Color Control GX Retail
Victron GX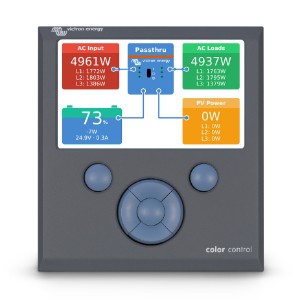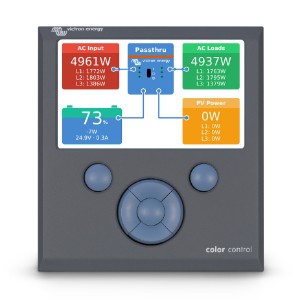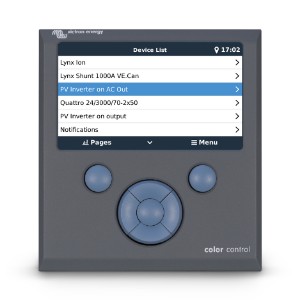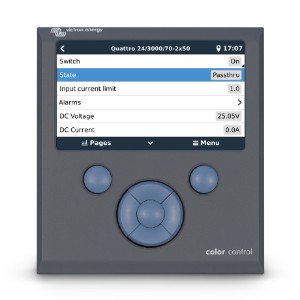 Quantity:

tell me more
The Color Control (CCGX) provides intuitive control and monitoring for all products connected to it. The list of Victron products that can be connected is expansive: inverters, Multis, Quattros, all the latest MPPT solar chargers, BMV-700 battery monitors, Lynx Ion + Shunt, lithium batteries, and more.

Besides monitoring and controlling products on the CCGX, the information is also forwarded to the free remote monitoring website (https://vrm.victronenergy.com). The portal is free to use.

In order to display any useful information, this must be used in conjunction with other Victron products. To provide battery state of charge information, a BMV-700 battery monitor must be connected. To display solar yield data, an MPPT charge controller must be connected. To show AC power information, a Phoenix inverter or Multiplus/Quattro must be connected. This panel must be used in conjunction with other Victron products if lithium smart batteries with integrated BMS and CAN communication are used.
Features (when used in conjunction with correct products):
Real-time display of battery voltage (V), charge/discharge current (A), AC & DC power (W), and state of charge (%).
Logging in to Victron VRM portal for free. Data stored and displayed as graphs which are customisable.
Relay which can trigger alarm states, drive contactors, or be used to auto-start a generator under various parameters.
Graphic on-screen display. Full network control, over LAN and WAN. Remote Connection.