Victron Battery Monitor BMV-712 Smart
Victron BMV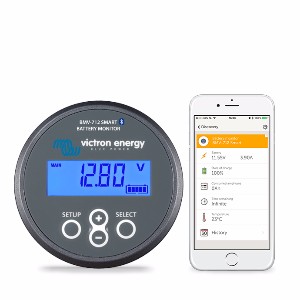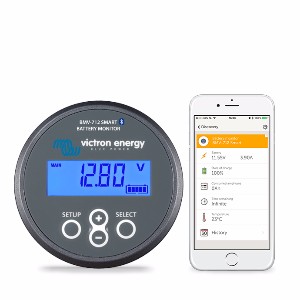 Quantity:

tell me more
The BMV-712 is the newest precision battery monitor from Victron Energy.
The essential function of a battery monitor is to calculate ampere-hours consumed and the state of charge of a battery. Ampere-hours consumed are calculated by integrating the current flowing in or out of the battery.
The remaining battery capacity depends on the ampere-hours consumed, discharge current, temperature, and the age of the battery. Complex software algorithms are needed to take all these variables into account. Next to the basic display options, such as voltage, current, and ampere-hours consumed, the BMV-712 series also displays state of charge, time to go, and power consumption in Watts. The additional features of this BMV-712 compared to the 700 include the additional input which can be programmed to measure the voltage (of a second battery), battery temperature or midpoint voltage.
Have a Solar System? See these settings for optimal operation.

Features:
Highest resolution: 10mA (0.01A) with 500A shunt.
Lowest current consumption: 1mA.
Midpoint voltage monitoring: only with BMV-712 can you monitor the midpoint voltage to improve battery care and check for failed batteries.
Easiest to wire: the BMV-712 comes with shunt, 10 meter RJ 12 UTP cable and 2 meter battery cable with fuse. No other components needed.
Easy to install: separate front bezel for square or round appearance; ring for rear mounting and screws for front mounting.
Built-in Bluetooth for wireless communication to simplify installs and enhance performance.
Information & Alarms:
Battery voltage (V)
Battery charge/discharge current (A)
Ampere-hours consumed (Ah)
State of charge (%)
Time-to-go at the current rate of discharge
Visual and audible alarm: over- and under-voltage, and/or battery discharged, temperature or midpoint voltage