EPSolar 10A LandStar Solar Charge Controller - with USB port - (LS1012EU)
LandStar USB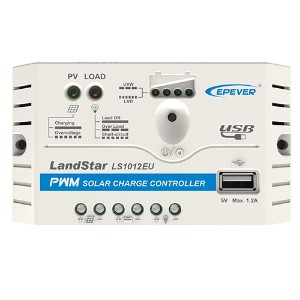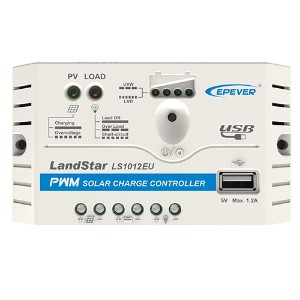 This BRAND NEW LS1012EU model is a simple PWM controller that includes a 5V USB terminal output for charging mobile phones, fans and other small electronic items. This compact regulator packs some great features not normally available on such a little device.
Features
High efficiency PWM charging - increasing battery lifetime and improve solar performance
Use MOSFET as electronic switch, without any mechanical switch
Intuitive LED indicators showing battery voltage status
USB Output port: 5VDC/1.2A
Temperature compensation
Electronic protection: over charging & discharging, overload, and short circuit
Battery reverse polarity protection
Industrial grade design
MAX solar input at 120W (12V) only.