Morningstar TriStar 60A 12/24/48V PWM Multi-Function Controller
TriStar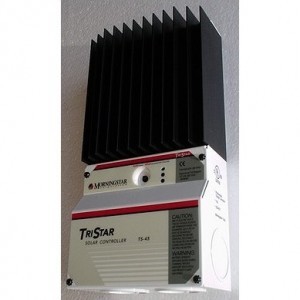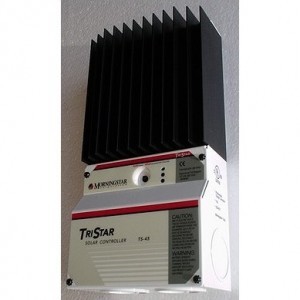 Morningstar's most advanced product, the TriStar, is a three-function controller that provides reliable solar battery charging, load control or diversion regulation and is capable of handling solar arrays up to 800W (12V), 1600W (24V) or 3200W (48V).
It operates in one mode at a time, as either a direct solar battery charger, load controller or regulator. Two or more controllers may be used to provide multiple functions. As a solar battery charger, it implements an efficient 4-stage PWM charging process to increase both battery capacity and life.
As a load controller, it can start large loads such as motors and pumps without damage to the system, allowing inrush current to 200A. It protects against short-circuiting and overloading with automatic reconnect. As a load-diversion regulator, it protects against battery overcharge, diverting excess energy to a secondary battery or alternate DC resistive load such as an immersion heater. In this mode it can control inputs from solar, wind or hydro sources.
This model is for use with currents up to 60A.
For greater charging efficiency, particularly when battery temperature varies by more than 5C throughout the day/year, add a Morningstar remote temperature sensor.
To connect up your system, we recommend FlexSol outdoor-rated solar cable. We can also make up complete cables to your specification - see the cables and connectors page.
Suitable for 12V, 24V and 48V systems.
New: a TriStar 60A MPPT version of this controller is now available!