200W Midsummer Mono Solar Charging Kit
100-200W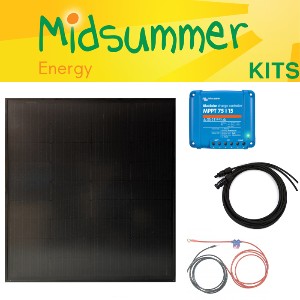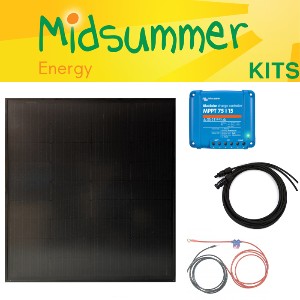 Quantity:

tell me more
BACK IN STOCK!
This 200W Midsummer monocrystalline solar charging kit is suitable for small to medium off-grid installations. In motorhomes, caravans and liveaboard boats, it should be capable of keeping a 12V battery charged with minimal-medium usage (such as LED lights; small TV; water pump; phone/tablet charging).
This kit contains:
200W Black Monocrystalline Perlight Delta Solar Panel - with 5 year warranty.
15A 75V Victron SmartSolar MPPT solar charge controller - 20% more power
1.5m 6mm 20A Fused Harness

Pair of 3m solar cables with MC4 connectors
This unique 200W monocrystalline solar panel (1036 x 1002 mm square) can fit on any roof. It has a sturdy 35mm svelte black frame to protect some of the highest quality glass available. Good glass permits better light transmission and thus higher energy yields. The backing sheet that coats the back of the solar panel is durable and weather tight ensuring many years of performance. A resilient junction box coupled with double insulated solar cables ensures effective energy transference. The cables are fitted with the industry standard MC4 compatible connectors.
To effectively charge your 12V battery bank you will need a solar regulator. We provide only high quality regulators from industry leaders. This kit comes with the fantastic 15A 75V Victron Energy MPPT solar charge controller. We have been a direct distributor of Victron Energy products for many years and have always been impressed with the high quality of their products.
Conversion inefficiencies exceeding 98% and high speed maximum power point tracking (MPPT) ensure little to no power whatsoever is lost from your solar system. Protection measures include battery short circuit, reverse polarity and overcharge protection as well as temperature compensation (using optional temperature sensor) to ensure batteries last as long as they should.
To connect this kit to your 12V system you will need suitable cables. We provide two x 3m cables with MC4 connectors on to enable you to connect the panel to the regulator. We also provide a suitable 1.5m 20A harness to connect the regulator to your battery bank.
If your looking for a suitable mounting solutions please check out our mounting page.
Solar Panel Specifications:
Rated power: 200W
Voltage Voc: 50.97V
Voltage Vmp: 42.12V
Current at max power Imp: 4.75A
Current at short circuit Isc: 4.97A
Dimensions: 1036 x 1002 x 35 mm
Weight: 9 kg
Warranty: 5 years workmanship; performance warranty is 90% after 5 years, and 80% after 10 years
If the cables are not long enough let us know and we will make something up to suit your needs.