2x 200W Rigid Battery-Battery Solar Charger Kits - for Smart Alternators on Campers
Smart DC-DC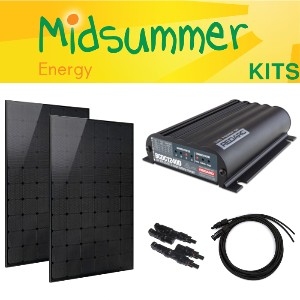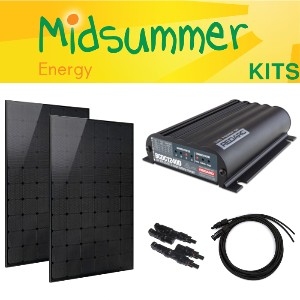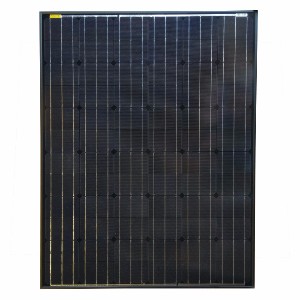 £

799.00
Quantity: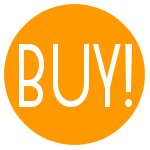 tell me more
This premium 2 x 200W (400W) all-black solar charging kit is ideal for smart-charge alternators on motorhomes and caravans. The smart battery-to-battery charger in this kit is able to maintain a constant voltage from the smart alternator to charge an auxiliary/leisure battery safely.

This kit contains:
2 x 200W Midsummer Monocrystalline Black Solar Panel - 1240 x 992 x 40mm
40A REDARC BCDC1240D MPPT Smart Battery-Battery Charger - with sensitive charging voltages
Pair of 3m solar cables with MC4 connectors
Pair of 4mm2 T-Branch solar cable connectors with MC4 connectors - parallel
This new solar panel kit is specifically for vehicles with smart alternators that cannot use a traditional split charge system (voltage sensitive relay). The brand new
REDARC 40A 12V MPPT Smart Battery-Battery Charger
in this kit uses and takes the highly variable voltage output from a smart alternator and boosts or reduces it to maintain a stable voltage output for your secondary battery. The charger has MPPT solar input for the panels, and connections to both your engine and leisure battery. It is a fully automatic, 5 step charger that supplies up to 40A of power to charge, condition and maintain AGM, Gel, Calcium or Lithium 12V batteries.
We have provided a pair of 3m solar cables with MC4 connectors, and a T-branch connector for parallel connection of the panels as the BCDC1240D requires the panels to be connected in this way only. If you also need bespoke lengths of battery cables with fuses, to connect to your engine and auxillary battery, please contact us directly as lengths may vary and change the required cable thickness.
Solar panel specifications:
Rated power: 200W
Voltage Vmp: 22.3V
Current Isc: 11.24A
Dimensions: 1240 x 992 x 40 mm
Weight: 14kg
Smart MPPT Charger specifications:
Input PV: 9-32V DC

Max Output Current: 40A
Maximum Power Point Tracking (MPPT): Yes (520W max solar input)
Operating Temperature: -15°C to +80°C

Dimensions: 165 x 120 x 37 mm

Weight: 0.85kg

Insulation class: IP65 (splash and dust proof)
Warranty: 2 years
MAX solar panel input 520W and <32V, suitable for 12V engine battery and 12V leisure battery banks only!
Please get in touch for more information.