Perlight 295W Compact Solar Charging Kit
250-300W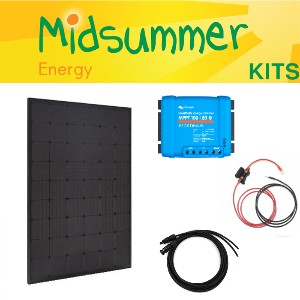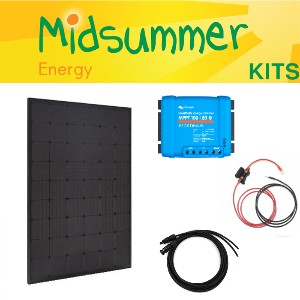 Quantity:

tell me more
This 295W Perlight Delta compact solar charging kit is suitable for medium-large off-grid installations. It includes a
brand new top-of-the-range solar panel
, that is perfect for off-grid solar power systems. In motorhomes, caravans and liveaboard boats, it should be capable of keeping a 12V or 24V battery bank charged with medium usage (such as LED lights; TV; water pump; phones/tablets/laptops charging; electrical fridge).
This compact kit contains:
295W 54cell Perlight Delta Solar Panel - 12 year product warranty
1.5m 6mm2 20A Fused Harness

Pair of 3m solar cables with MC4 connectors
Perlight panels are produced in a highly-automated facility to strict quality control standards. With a wide range of outputs and a reputation for innovation, Perlight panels are a good go-to option for domestic and commercial installations alike. Perlight Delta 54 cell panels combine compact and highly efficient panels with the ultimate in all black appearance. Measuring just 1504 x 1002mm, they offer great flexiblity for smaller and more complex shaped roofs.. The output warranty is stronger than the industry standard, offering 25 years at 80%, and along with a 12 year manufacturer's warranty.
An MPPT regulator from the SmartSolar range, manufactured by Dutch company Victron Energy - one of the market leaders in solar power electronics equipment. This 20A MPPT charge controller is capable of providing significantly more power to a battery bank from the solar array, compared to conventional PWM charge controllers, in addition to maximising the battery lifespan. The MPPT regulator is effectively a dynamic DC-DC converter which constantly adjusts and optimises the voltage output from the solar array, which can vary considerably, in order to provide a constant charging voltage for the batteries - which improves their lifespan and equates to lower power losses in the system. For unbeatable performance and real-time monitoring, it has a built-in bluetooth wireless dongle.

To connect this kit to your battery bank, we have provided a pair of 3m solar cables with MC4 connectors and a fused positive and negative battery harness.
If your looking for a suitable mounting solutions please check out our mounting page.
Solar Panel Specifications:
Peak power Wp 295W
Voltage at peak power Vmp: 30.93V
Max open circuit voltage Voc: 37.18V
Current at peak power Imp: 9.54A
Max short circuit current Isc: 10.08A
Weight: 17kg
Dimensions: 1504 x 1002 x 35mm
Warranty on output: 25 years
Suitable for charging 12V or 24V battery banks. (This new model is ever so slightly bigger than the discontinued 270W model at 1482 x 992mm)