2kW Off-Grid Kit with 7kWh Lithium Battery
Lithium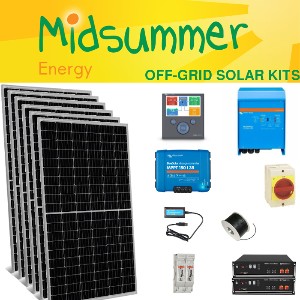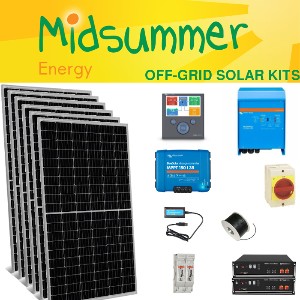 £

7496
Quantity: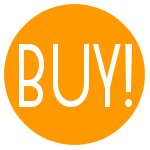 This 2kW solar charging kit is the complete solution for anyone choosing to get away from mains power, and living the off-grid dream. Perfect for office conversions, sheds, garages, beach huts, or live-aboard boats, this kit is capable of powering most domestic electrical appliances year round (lighting, TV, PC, kitchen appliances, fridges).
Victron SmartSolar charge controller and Multiplus inverter/charger are some of the best products on the market and come with a 5 year warranty.
These excellent Lithium Iron-Phosphate batteries from Pylon Tech has the advantages of an internal Battery Management System and high reliability, high life-cycle and high temperature performance, as well as being environmentally friendly. 10 year warranty standard.
Full system control is gained - almost anywhere in the world - by accessing your Color Control GX using the free-to-use Victron Remote Management Portal (VRM).
This complete kit contains:
6 x 325W Monocrystalline Solar Panels - exceptional low-light performance using anti-reflective nanotechnology and enhanced shunt resistance
1 x Victron SmartSolar 150V 35A MPPT Controller - with in-built bluetooth technology
3 x 2.4kWh Pylon US2000 Lithium Battery - relying on the cutting-edge technology for streamlined energy storage and now 90% DoD (inc. Pylon Long DC Cable Pack, and two sets of stackable brackets)
1 x Victron Multiplus 3kVA 48V Inverter Charger - two AC outputs
1 x Victron Color Control GX Panel - offers at-a-glance live information, and lets you control all products connected to it (including Wifi Nano USB, Wall Mount Enclosure and Power Leads)
1 x Durite 300A Rotary Battery Switch
2 x AC Isolator - Kraus Naimer 40A 3-pole; 1 x Kraus and Naimer DC Isolator - KG20-4 4pole 2 string
Battery Cabling for Multiplus and SmartSolar Regulator, Misc cables - including Comm CANbus cables, VE.Direct cable, RJ45 cable

This fully off-grid household solution combines 1950W solar power, a seprarate SmartSolar MPPT controller for the solar panels to charge and connect with maximum charging efficiency to the 7kWh Lithium battery bank that is a breeze to install. The Victron Multiplus Inverter Charger also has the capabilities to provide a continuous output power of 2400W and has two AC outputs. With the Color Control GX providing intuitive control and monitoring for all the products and shows you the state of charge of your lithium batteries, solar charge and AC output all on one screen! With appropriate isolators, string fuses and battery switches, this full off-grid solar kit is the complete package.