430W Full Solar Charging Narrowboat Kit - with adjustable tilt mounts
Cruising Cut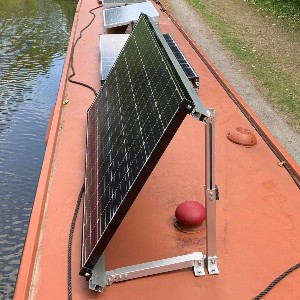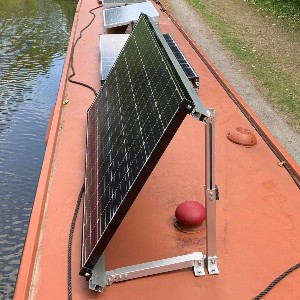 Quantity:

Midsummer Energy's very own updated, equivalent of the 'Cruising the Cut' Original Solar Panel Kit from Vlog 15, in December 2015.
This 2 x 215W (430W) Victron monocrystalline rigid frame solar charging kit is ideal for narrow boats that need a bit more power than the usual setup, but stay compact with the Victron panels unique dimensions. Combined with our best selling adjustable tilt mounting system and EPEVER Tracer AN 40A MPPT controller with remote LCD display.
This kit contains:
2 x 215W Victron Monocrystalline Solar Panel - with unique dimensions 1580 x 808 x 35 mm
1 x EPEVER Tracer 40A MPPT Controller - with in-built LCD display
1 x MT-50 Remote LCD Display
1 x Pair of 5m solar cables with MC4 connectors
1 x 1.5m Harness 10mm2 with inline fuse
1 x Waterproof Double Cable Entry Gland - White
2 x Semi-permanent adjustable mounting for narrowboats - ready to tilt or lie flat
MPPT
One of the most trusted manufacturers on the market, EPsolar combines reliability with performance to bring excellent value for money. The new Tracer-AN series from EPsolar builds on the great performance of the BN series whilst improving conversion efficiency and including a built-in LCD display, allowing keeping an eye on generation that much easier compared to older generations. The MT-50 display can be placed in an appropriate position to give exact read outs from the solar panels and battery health.
Mounting
This kit includes our ever popular adjustable tilt mounts - telescopic tilt legs enable adjusting of the panel angle to help your solar charging kit perform better when the sun is lower in the sky. Check out the instructions linked in the Tell Me More box above.
Connections
The 5m PV cables have been specified due to the constraints of trunking through the roof and down to the controller and batteries, but if you don't need that length, simply cut it down. If you need longer cables let us know.
Electrical
Peak power
215W
Vmpp
37.40V
Voc
45.82V
Impp
5.75A
Isc
6.30A
System
Weight
15 kg
Dimensions
1580 x 808 x 35mm
Product warranty
5 years
Warranty on output
90% 10 years; 80% 25 years
NB: David at 'Cruising the Cut' did get this original kit from us back in 2015! He specified the requirements of his kit - whereas yours may differ. Space availability on narrowboats is always difficult, so please measure the space available to you. Different panels/controllers/mounts are now offered. Also, the cable lengths are adequate for his needs but you may need longer lengths if running to