350W All-Black Mono Split-Cell 12V/24V Premium Solar Panel Kit
350W+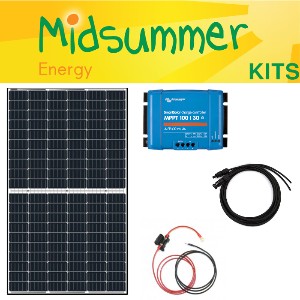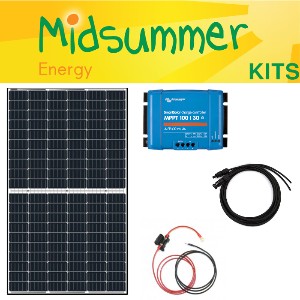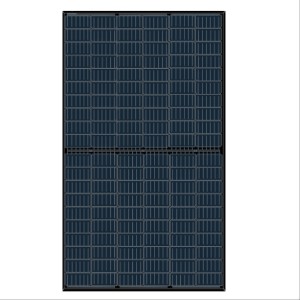 £

375.00
Options:

Quantity: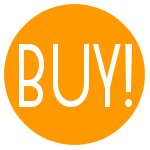 tell me more
This premium 350W monocrystalline solar charging kit is suitable for medium-large off-grid installations. In motorhomes, caravans, beach huts and liveaboard boats, it should be capable of keeping a 12V or 24V battery bank charged with medium-high usage (such as LED lights; TV; water pump; phones/tablets/laptops charging; electrical fridge; radio; fan).
This kit contains:
350W monocrystalline All-Black Split-Cell Solar Panel - positive power tolerance
30A Victron SmartSolar MPPT solar charge controller - in-built bluetooth technology
1.5m 6mm2 30A Fused Harness

Pair of 3m solar cables with MC4 connectors
A good value 350W mono panel with split-cell technology, which offer high outputs and improved panel efficiencies thanks to the reduced resistive losses offered by half cut cell circuits..
High quality Low LID PERC cells are treated to reduce Light Induced Degradation (LID) for a better lifetime performance than standard Mono PERC..

The MPPT regulator from the SmartSolar range, manufactured by Dutch company Victron Energy - one of the market leaders in solar power electronics equipment. The Victron Energy brand is synonymous with quality and reliability - ensuring that this 30A MPPT charge controller is capable of providing significantly more power to your battery bank - which improves battery lifespan and equates to lower power losses in the system. This also incorporates in-built bluetooth technology so that you can use your smartphone or tablet as monitor display for your solar power system.
To connect this kit together you will need suitable cables. We provide two x 3m cables with MC4 connectors on to enable you to connect the panel to the regulator. We also provide a suitable 1.5m 30A harness to connect the regulator to your battery bank.
If your looking for a suitable mounting solutions please check out our mounting page.
Specifications:
Peak power Wp 350W
Voltage at peak power Vmp: 33.3V
Max open circuit voltage Voc: 40.5V
Current at peak power Imp: 10.52A
Max short circuit current Isc: 11.02A
Weight: 20kg
Dimensions: 1776 x 1052 x 35mm
Warranty on output: 25 years
Product warranty: 10 years
If the cables are not long enough let us know and we will make something up to suit your needs.
Suitable for charging 12V or 24V battery banks.